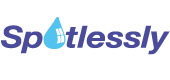 At Spotless Glass we have always recognised the importance of providing a reliable service to our customers. We know you make special arrangements to have us visit so we will be there on time, every time!

Its difficult inviting strangers into your home, we recognise this so from the moment Spotless Glass walk through your front door, we listen to you. You're the boss. If you have special needs, express them to any of our staff and we'll accommodate with a smile!

A job done should be a job well done. When Spotless are finished, feel free to inspect his work and ask any and all questions. You don't pay until Spotless has completed the job to your satisfaction. If we can't make you happy, we will clean again for free.